Allosaurus fragilis
Homepage > Dinosaur List A - Allosaurus fragilis
Dinosaur Lists by Letter A B C D E F G H I J K L M N O P Q R S T U V W X Y Z
(Al-oh-sore-us)
"different lizard"
Describer Marsh, 1877
Also Known As --
Type of Species fragilis
Order Saurischia
SubOrder Theropoda
InfraOrder Carnosauria
Micro-Order --
Family Allosauridae
Size 30-40 feet (9-12 meters) in length
Period Late Jurassic, 156-145 million years ago
Fossilsite Morrison Formation, Colorado, Montana, New Mexico, Oklahoma, South Dakota; Cleveland-Lloyd Dinosaur Quarry, Utah, Wyoming, US; Lourinha Formation, near Andres, about 135 km NNE of Lisbon, District of Leiria, west-central Portugal
Diet Bipedal Carnivore
Allosaurus was a large carnivorous dinosaur with a length of up to 12 meters (39 feet), and 16 feet tall. This animal had a skull that measured 3 feet long with two blunt horns just above its eyes, in the orbital region. It had a strong, S-shaped neck, and had vertebrae that were different from those of other dinosaurs.

It had a large powerful jaw with long, sharp, serrated teeth 2 to 4 inches long. These teeth were curved inward, shaped like a"D" to help secure its pray. It had a massive tail, a bulky body, and thick bones. Its arms were short and had three fingered hands with sharp claws that were up to 6 inches long.
Allosaurus was one of the largest meat eating dinosaurs of the Late Jurassic, 156-145 million years ago. Allosaurus was the largest predator until the tyrannosaurs which appeared some 50 million years later. Allosaurus was the most common carnivorous dinosaurs in Jurassic North America. Allosaurus fossils may have also been found in Africa and Portugal, Europe.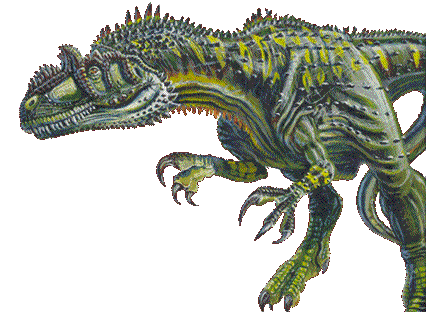 This dinosaur may have been built for high speed chases, there is a probability that this animal hunted in packs when tracking large animals such as Diplodocus.Thereis some debate to whether this animals were fast moving animals or slow stalking predators. Even though these animals possessed powerful legs to carry their enormous weight, they had a risk of hurting themselves if ever falling on a fast run. X-ray studies have shown some Allosaurus ribs being fractured from a fall, the x-rays also showed these ribs to have healed. These animals could not afford to hurt themselves, hindering their ability to hunt.
Allosaurus was a massive carnivore, the biggest of its time and habitat. This animal possibly hunted down large herbivores such as Diplodocus and Stegosaurus, to satisfy its big appetite.
Discovery
Paleontologist Othniel C. Marsh, gave the name "Allosaurus" in 1877. The first complete Allosaurus skeleton, was discovered by a rancher M. P. Felch in 1883, Colorado, USA. Over 60 Allosaurus fossils have been found, mostly in the Morrisson Formation in Colorado, USA.
Allosaurus fragilis Paleo Gallery
Click on images to see more art from artist!